A
and I have been slowly easing into
tot school activities
. It's very relaxed and we only do the activity if she is into it. I like having time that is focused on her, and that she enjoys it. A friend of mine (also a former teacher) and I are planning on working together and have set up a curriculum already for our two tots this year. We're both excited to see how much these little ones grow!
Here are our activities for this week:
Sorting BIG and small eggs

Matching eggs by color
Matching the flower to its color word (print yours
here
.)
Building a flower (these are from Playskool, we got it at a thrift store) A pulls these out frequently throughout the day.
Arranging flowers
Umbrella colors and numbers book (get yours
here
.)
Freshly made play dough with spring cutters
We'll also spend time reading spring books and going outside.
If you'd like to learn more about tot school, visit:
1+1=1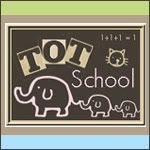 Linking up at the following blogs:
Also linking up
here
.
Come over to play at the Childhood 101 We Play link up: